So, what´s it like? This crazy world of WRC. This season I reach the ultimate goal of my reporting career, a chance to work for WRC TV. We have just put Rally Monte-Carlo behind us, and I want to share some of my experiences from behind the scenes at WRC TV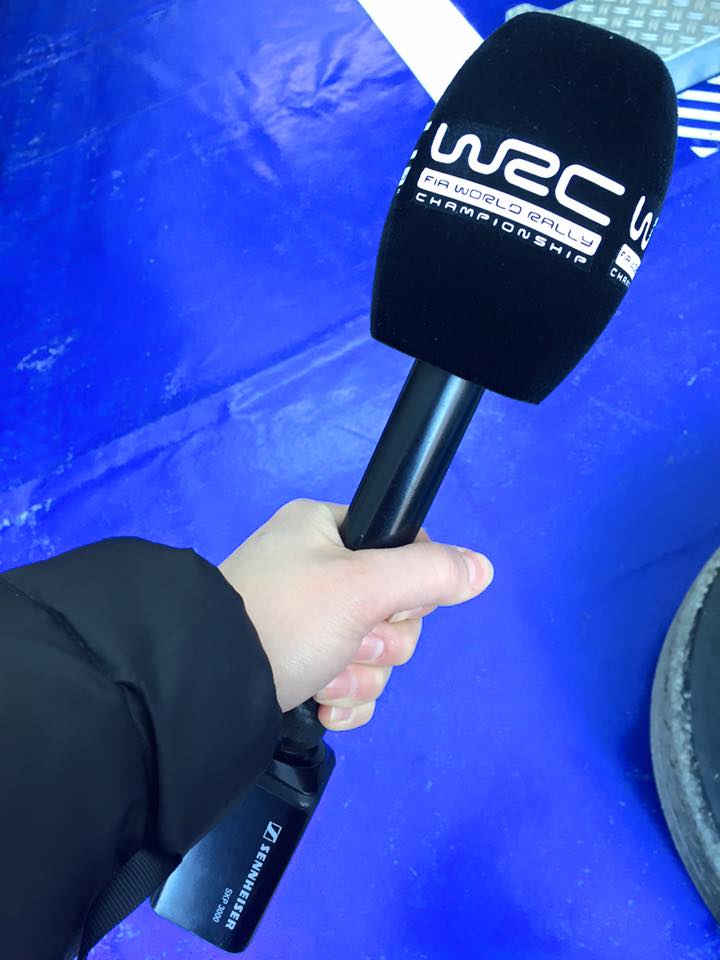 To tell you a little bit of history I have worked as a reporter since 2007 and a commentator since 2011, mainly in Norway where I come from. I have followed the WRC closely since 2006, but even closer when I started commentating for Viasat in 2011. My first chance to be part of an international tv production came in 2014 when I was asked to be pitlane reporter for WorldRX. Filling in for Neil Cole I was only on for 6 rounds, but it was enough to be struck by the live tv buzz. For 2015 I worked for TV2 Norway, broadcaster of WRC. With them I travelled to 4 WRC rounds and commentated most of the others. However, eager to get back to being an English reporter and LIVE television I took my chances and asked WRC TV if they had a spot for me in 2016. AND, turns out they did!
It was my first time in Monaco, and if it wasn´t enough taking in all the impressions from this beautiful city last Thursday I was surrounded by tv personalities I have admired for years. Jon Desborough, Julian Porter, Paul King to mention a few. All of a sudden I was part of their crew, getting in on the discussions about the new season and what was in store for 2016. It´s the sort of thing you would like to be a fly on the wall listening too, and now I was actually part of the conversation.
Julian Porter, me, Jon Desborough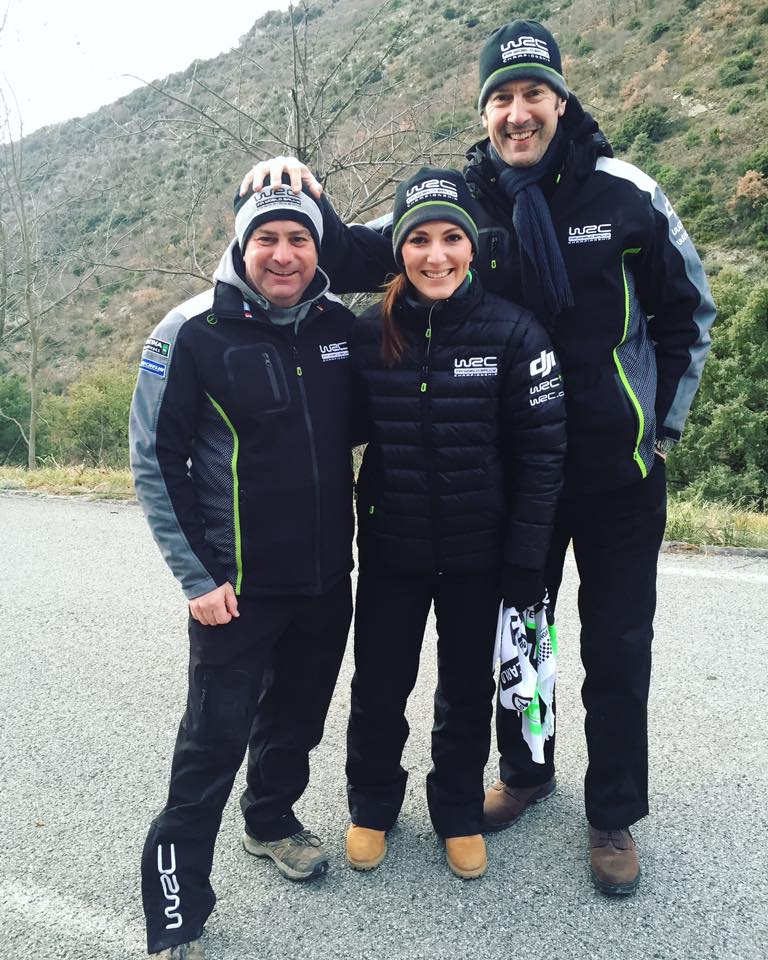 Paul King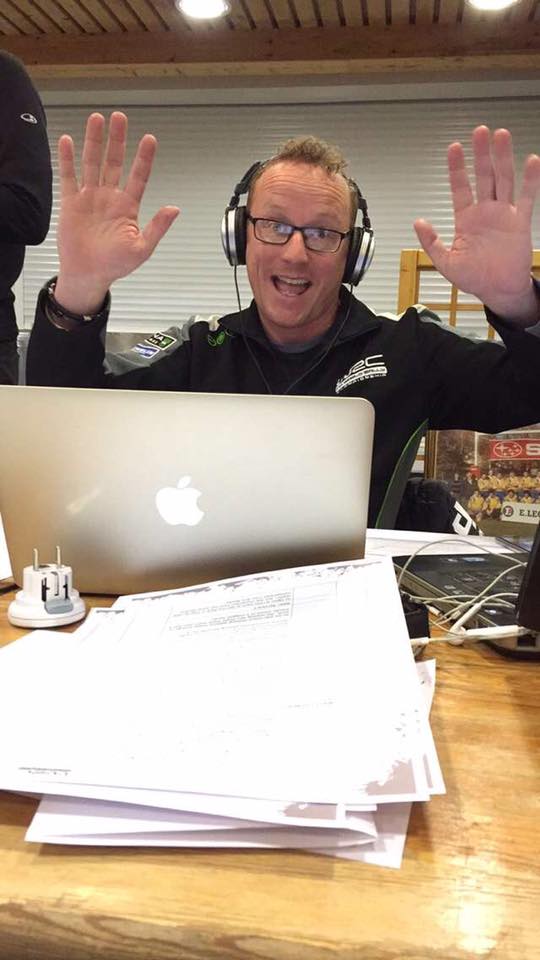 Thursday was the opening celebration of the 2016 WRC season. Together with Julian Porter, we were to host a 3,5 hour show LIVE on the web. It was team bosses, drivers, celebrities, other big names in the sport and all of this was going on in Casino Square, Monaco! I threw to Julian, he threw to me and we interviewed everyone from football star Jean Pierre Papin to Swedish actor Michael Nyqvist who where all there to experience co-driving with stars of WRC. I was introduced to the team-bosses of the WRC manufacturers for the first time, and what lovely people they are. Malcolm Wilson asked me about my racing and was curious about what car, series, etc. I spotted Yves Matton and waved at him to come into the area where the cars and stars where for an interview. Turned out he didn´t have the right armband on and was refused to come in! You have to admire the marshals for doing there job, but they clearly didn´t know who he was. However we laughed about it and did the interview over the fence.
Swedish actor Michael Nyqvist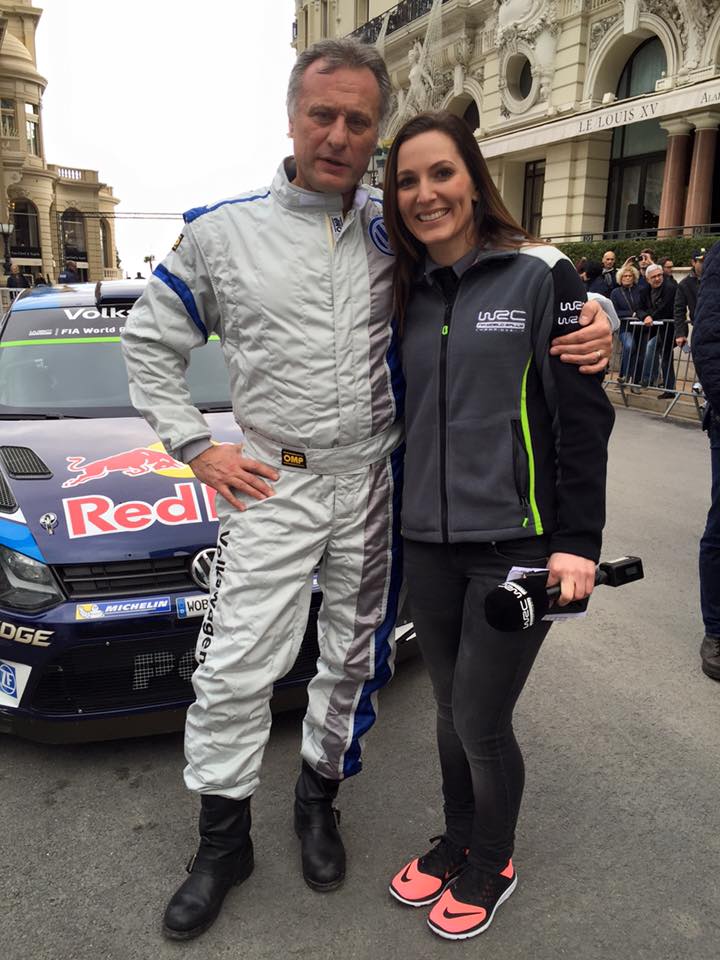 Not every day you are on a big screen outside the Casino in Monaco
LIVE on wrc.com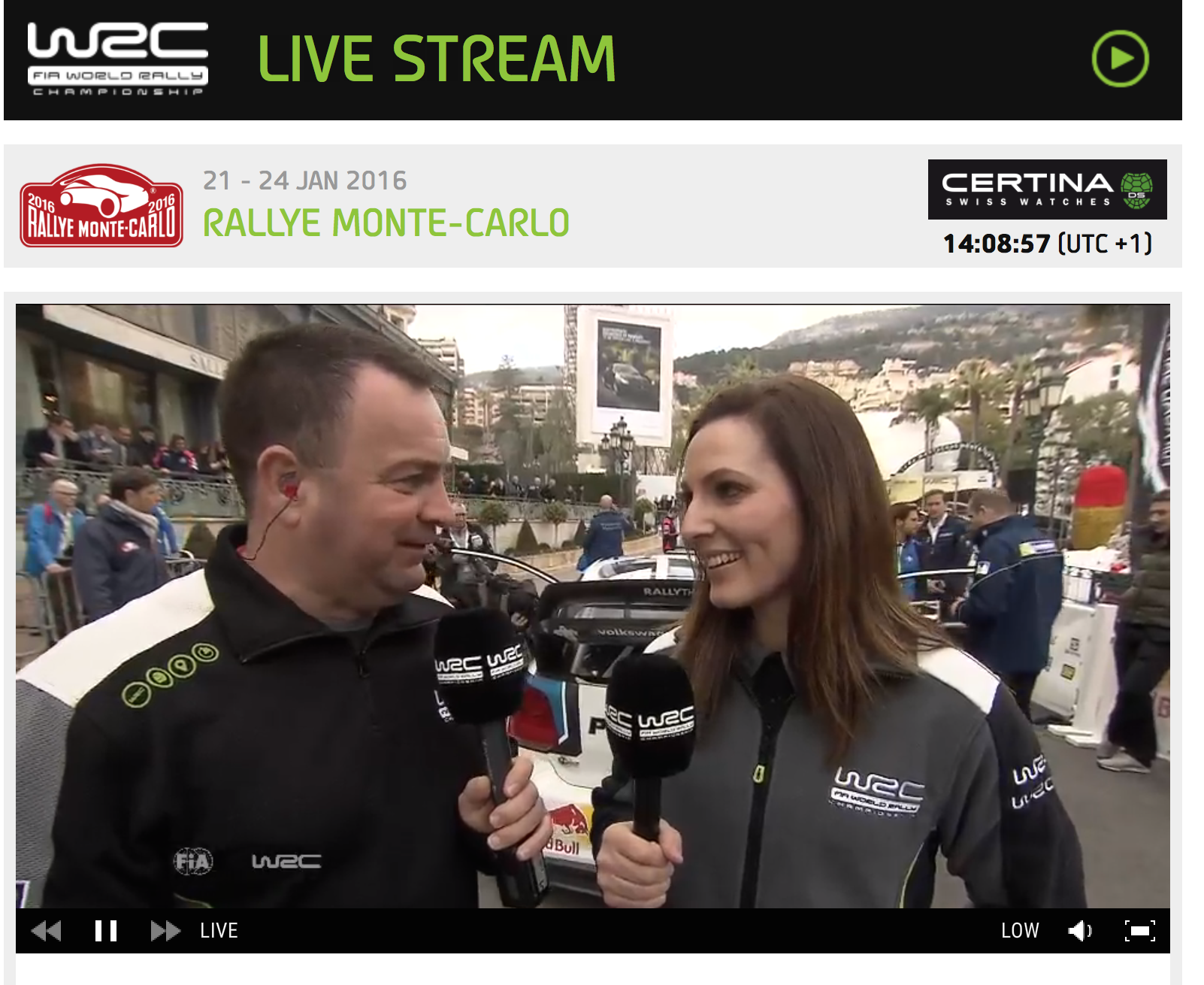 Just before the LIVE show I was asked if I wanted to do the stage end interviews on the SS1. I naturally jumped at the opportunity and we were off from Monaco to first stage of Rally Monte-Carlo. Getting closer we started to face some of the conditions the drivers have with tight windy roads, ice patches and darkness. I changed in the back of Steve T.´s car from Monaco´s 13 degrees celcius to below freezing temperatures at stage 1. Got kitted up with communication at the OB truck and started walking towards the stage end. Pitch black, through an old run down village, down a steep hill and there we were. When I knew we were live I switched into performance mode as we awaited the first car, Sebastien Ogier. We could hear him fiercely coming down a hill towards the flying finish and my heart starts to pound a bit faster. The things you don´t experience on the television became clear to me - all the smells. The smell of hot rubber and brakes from a WRC car that has been driven on the limit. They arrive at the time control, I am behind the camera man, the door opens and I crouch down. We wait until the driver has removed he helmet and I´m off with the very first stage end question of 2016. What a thrill! To be so close to the car and the driver/co-driver just after they have finished the stage. Some are calm, some shaking from all the adrenalin and some upset over a puncture or lack of confidence. There is so much emotion which together with the dark and cold atmosphere and the smells creates pure rally magic.
I went to bed a very happy girl that evening.
Stage end SS1. Together with Colin Clark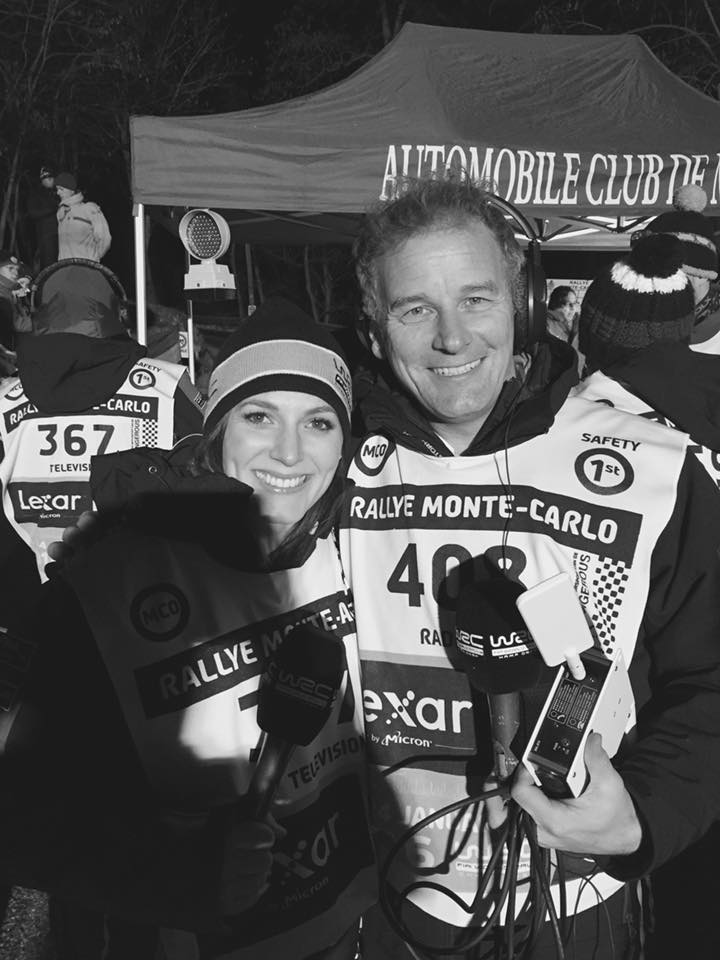 Friday and Saturday I was responsible for media zone interviews. The drivers have about 10 minutes to talk to the media as they enter the service park. I follow the rally closely both watching live-timing and listening to the rally radio so that I can get as relevant answers as possible as the rally progresses. It´s great sitting in the tv compound. Watching as everyone hurries carefully to secure that all is on target for the programs that are to be made. Every day there are 26 min highlights and at the end of the rally there is a 52 minute event highlight. This is a huge production and there are som very talented people behind the scenes. I have so much to learn!
Media Zone area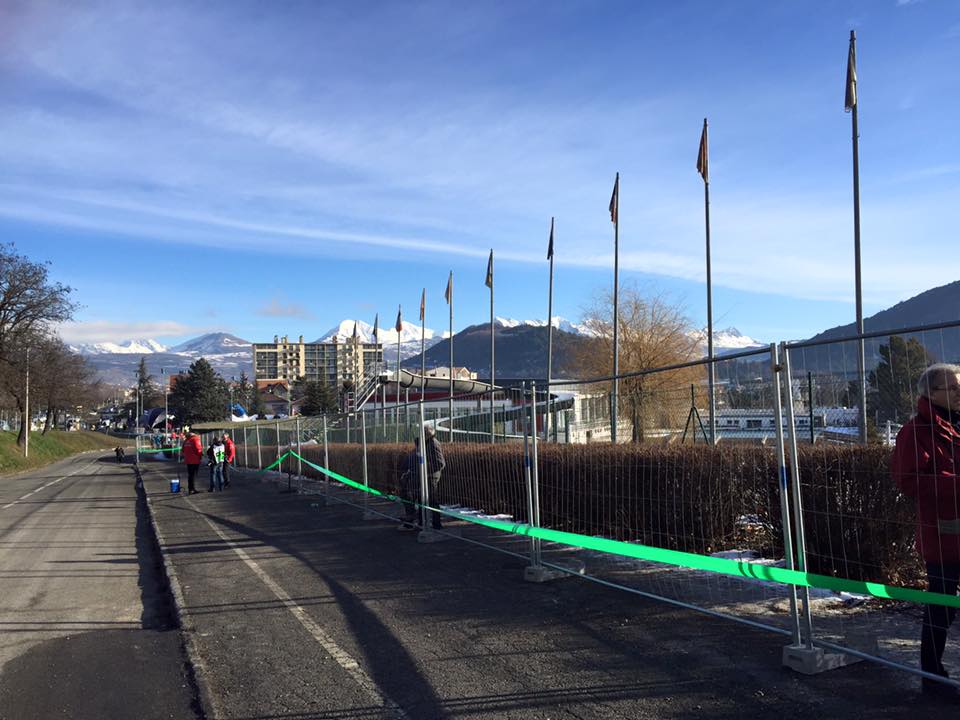 Following every move at the WRC TV HQ.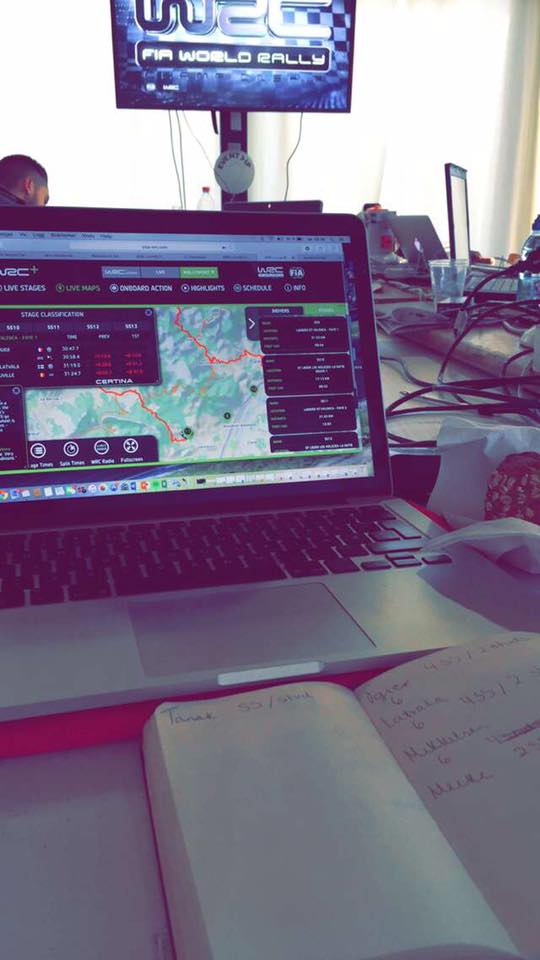 To my great delight I was asked again to do stage end interviews on ss14, the second to last stage of Rally Monte-Carlo. This time in daylight on a stage that has more hairpins than I can count at the end of it. Ogier had a big lead after Kris Meeke having to retire on Saturday so the big fight was for 2nd place, between Mikkelsen and Neuville. When Neuville came to the stage end he could tell us that he was having some problems. He and Mikkelsen had also chosen completely different tyre strategies which together with technical issues for Neuville made it all very interesting.
Then I had to rush back to Monaco to rejoin cameraman Heikki for the team reactions. Minutes before Ogier and Mikkelsen drove over the finish line we entered the VW truck where all the engineers and Jost Capito are watching live timing and tv coverage. As soon as the drivers are over the line the team go crazy and everyone hugs and congratulates each other. What a great moment, and it´s like Ogier said, "it is such a huge team effort". I interview Capito only seconds after the team has secured 1st and 2nd place, and it was great to see him go around to the whole team commemorating them for all their hard efforts. When Ogier returns it´s a champagne shower as he celebrates his 4th Monte-Carlo win and secures the first win of the season.
VW down at the Monaco harbor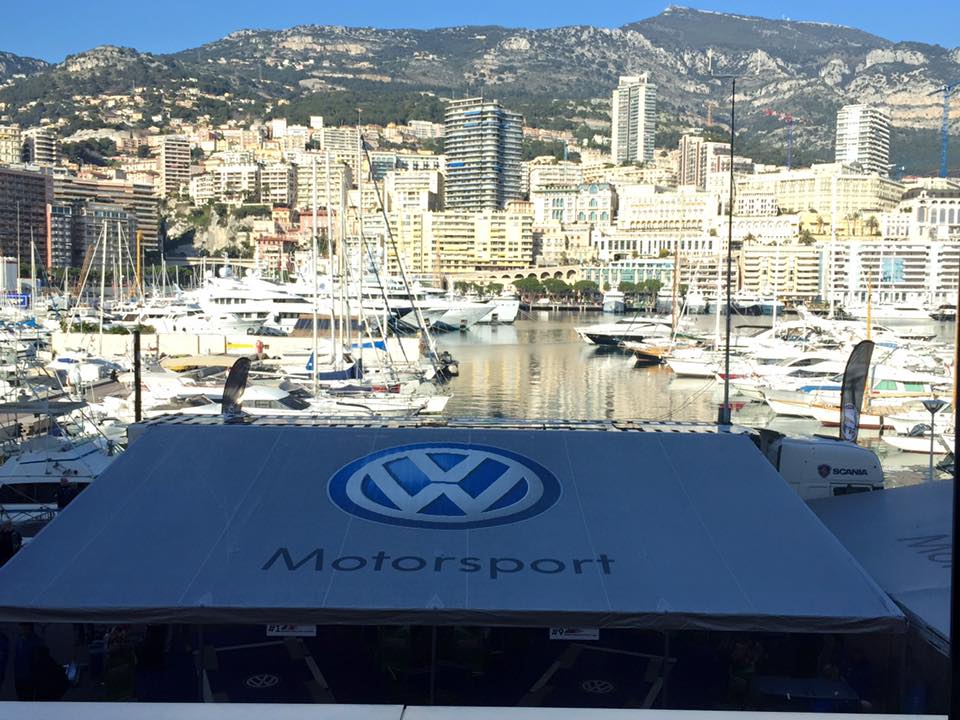 I was thrilled to see the fight that Kris Meeke put in and would loved to see him breathe down Sebastien´s neck right up to end. I am sure Rally Monte-Carlo was a good indication that Ogier could have a tougher time this year and that we are in for some thrilling fights throughout the season.
Kris Meek´s retirement. My twitter account went crazy when I posted this picture.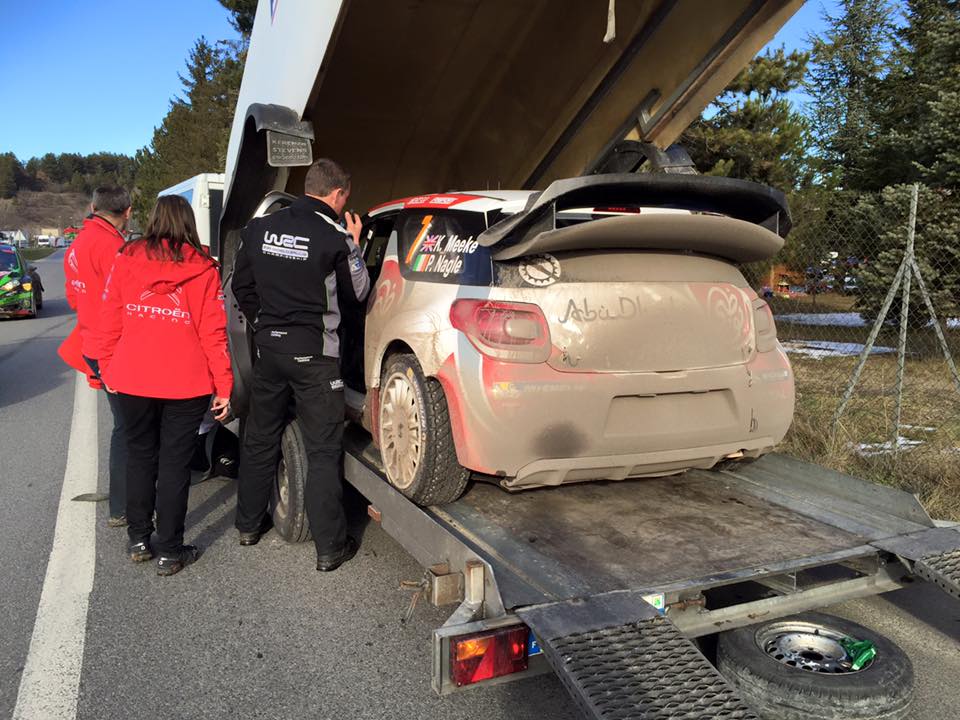 Mikkelsen told me in an interview after the rally that he was going to win Rally Sweden. We all remember his devastating spin on last years power stage. If anyone is hungry for revenge it has to be him!
Hope you enjoyed the read. Feel free to ask any questions(molly@mollypettit.com) and I will reply to them in my next rally report. Until next time...
Molly